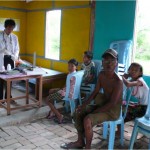 Buzz Off supports the work of the Compassion Clinic a free clinic in Shan State. The clinic is staffed by volunteer doctors who trained with Buzz Off in Mandalay earlier this year. The clinic provides free health care for families in poor communities who have none.
The clinic looks after more  than 700 families and does outreach work onto the remote tribal areas. Buzz Off is providing funds for anti malarial medicines, testing kits and mosquito nets.
Donations to support Buzz Off's partnership with the Compassion Clinic can be made through the Australian Mercy Donations page just nominate Compassion Clinic in the space provided.